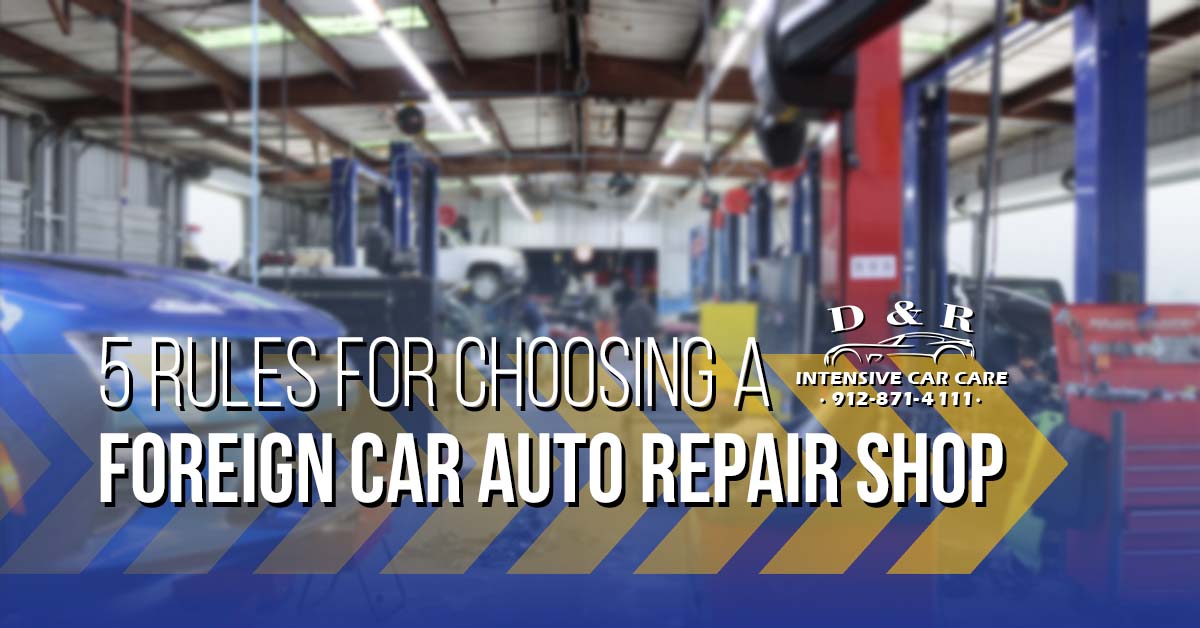 If you are a car aficionado, you want your car in the best hands possible. If you have a foreign car, this is especially true. Foreign-made cars are marvels of machinery, with engines that aren't quite the same as domestic-made cars. If you take your car into a shop that doesn't know how to service or perform a foreign car auto repair, you may need even more repair work.
It would be best to vet the shops you trust with your vehicle before getting it serviced. Consider these five tips the next time your foreign car needs a foreign car auto repair.
How Much You'll Pay
You may be inclined to find an auto repair shop on the cheaper end, but saving money in the short term is how you spend more in the long run. You want to find a company that knows how to take care of your car. Unfortunately, to make sure you see the right foreign car auto repair shop, you'll need to be willing to pay more. You get what you pay for with cheap services; be willing to pay more.
Don't DIY
DIY auto repair is dangerous with a domestic car, but it can be even more complicated with foreign vehicles. Don't expect any D.I.Y. tutorial online to be able to explain how to fix your foreign car safely. Late-model foreign cars are often complicated machines where each part requires technical expertise to avoid damaging what you're trying to improve. 
Search for Reviews
Word of mouth is one of the best ways to find a new shop; in place of word of mouth, we have the option for online reviews. Look through your local auto repair shop's reviews, especially if there are mentions of taking care of foreign care auto repair. If you know any fellow foreign car enthusiasts, ask them what shop they frequently visit for their car repair troubles. If a foreign car auto repair shop is quality, people will want to talk about it.
Ask Questions
Not all auto repair shops offer the same services. When you arrive at a new shop, ask questions of your mechanic. Make sure the mechanic you trust with your car offers your needed services. Ask about their warranty policies and what customer service they provide to their clients. Make sure they have a customer guarantee.
Even more so, ask for estimates. Any repair shop that offers quality guaranteed services should be able to provide you with an estimate and an itemized list. This itemized list helps you know how much you'll be paying for what you need.
Check For Qualifications
Out of all things to consider when picking a foreign car repair shop: ask for their certifications. A qualified repair shop should have Automotive Service Excellence (A.S.E.) Certification. Check with your mechanic whether they've performed foreign car auto repair and maintenance work on luxury cars like yours. You want a mechanic not only with years of experience in auto care but someone who has been certified to care for your specific kind of car.
For Foreign Car Repair, Call D&R Car Care
Don't risk damaging your pride and joy car with a mechanic that doesn't know how to handle the foreign car auto repair that you need. Call D&R Car Care, where we've got the expertise to keep your vehicle in top shape.
From air conditioning to oil changes and turn signals to tires, we are a full-service auto repair shop with experience working on both foreign and domestic vehicles. Whether you need routine maintenance or repairs, the friendly staff at D&R Car Care will get you back on the road in no time. 
For top-quality car repair and tires in Statesboro, Ga, call us at (912)871-4111 or schedule your appointment online today.