Auto Air Conditioning & Heating Systems
D & R Car Care has specialized in automotive heating and air conditioning since our inception. Whether our customers need a car AC repair or just a component replaced, our technicians are trained and certified in automotive heating and air conditioning and will get the job done quickly and correctly.
When your auto air conditioning or heating system isn't supplying your vehicle with the desired air temperatures, it can make driving very uncomfortable. Our highly qualified technicians understand the importance of staying comfortable with cool air during the hottest summer months and warm air during the winter. We take pride in providing the best car AC system repair services.
To ensure our customers receive the best service possible, we purchase the most up-to-date equipment on the market annually for automotive heating and air conditioning repairs. Today's cars and trucks need Freon charges that are precisely measured mass to the gram. By not charging your system to these critical specifications, you are risking component failure. This could lead to your vehicle's auto air conditioning system not working to its fullest potential.
Maintenance performed on motor vehicle air conditioning systems is Federally regulated. The reason for these guidelines is to prevent the escape of Chlorofluorocarbons (CFCs), which can negatively impact the environment.
Here is a typical breakdown of an auto air conditioning & heating system: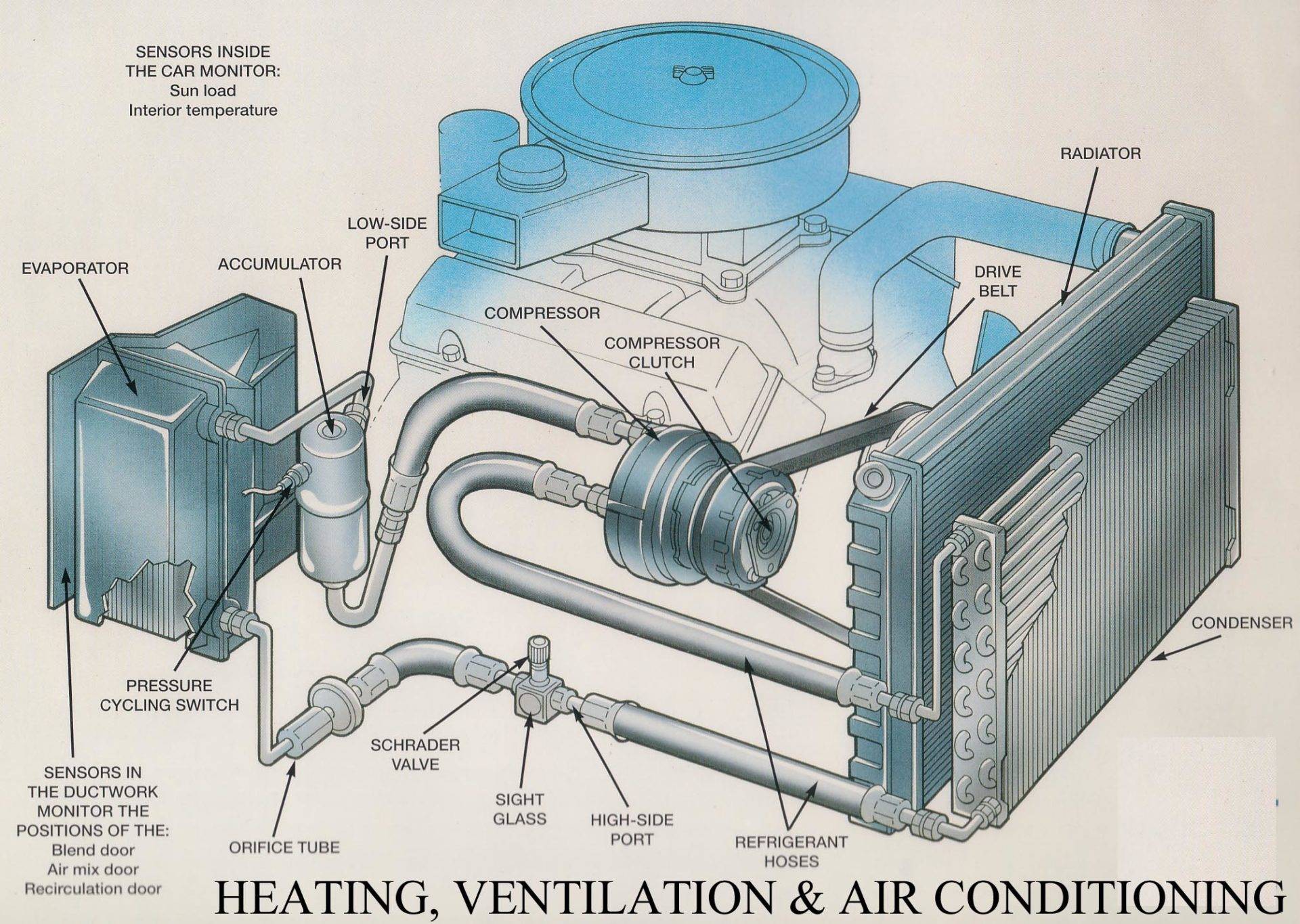 Summary of Federal Requirements
A Motor Vehicle Air-Conditioner (MVAC) refers to equipment that uses vapor compression refrigeration to cool an area of the vehicle. This allows for the passenger and driver to have cool air in the front compartment of all motor vehicles. This type of cooling equipment does not include a hermetically sealed system, such as a refrigerated cargo compartment or an auto air conditioning system on an HCFC-22 refrigerant passenger bus.
General MVAC Requirements
Starting from May 11, 2004, the general requirements for venting and releasing refrigerant into the environment have changed for those servicing, repairing, maintaining, and/or disposing of MVACs. Those who repair and service MVACs are required to be certified, as well as use USEPA-approved equipment. The USEPA administration also requires notification with the information of the on-site certified and trained professional who will be performing the MVAC repairs.
When the trained individual recovers refrigerant from motor vehicle air conditioners and MVAC-like appliances with the intention of disposal of these appliances, it is required that specific recovery equipment is used. The following steps must be followed precisely if an MVAC is going to be disposed of:
First, any Freon refrigerant remaining must be removed from the appliance.
Then, review the signed statement from the certified individual who removed the refrigerant from the appliance or shipment.