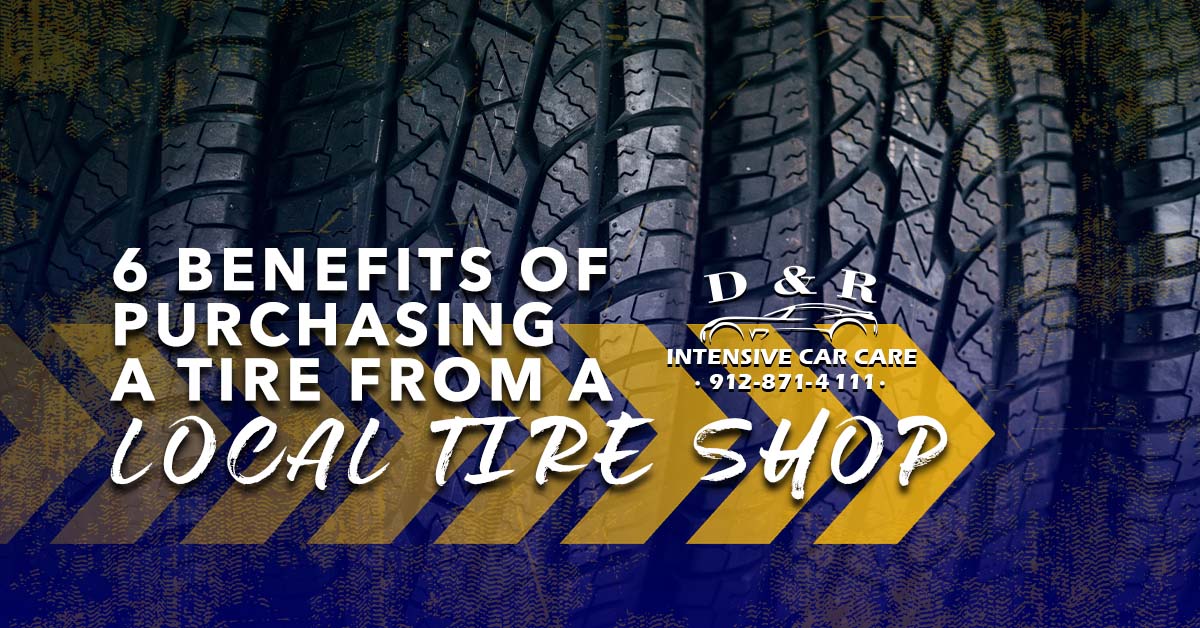 Whether it's a popped tire or worn treads, finding the best place to buy tires can be difficult when your vehicle requires a tire replacement. When all you want to do is get back on the road again, you may not be as thorough with your research as you should be. You may buy from the first big-name tire shop you come across or might purchase from an online tire retailer. Instead, D & R Car Care recommends purchasing your next tire from a local tire shop. Local tire shops offer many benefits you can't get from a chain or online retailer. Why not take advantage of them the next time you're shopping for tires?
Personalized Service
For many big named businesses, you'll be just one face of many, but to a local business, you're their community. One of the benefits of a local tire shop is that it can offer personalized customer service focused on you. These businesses are smaller in scale, and you can build relationships as you visit them.
If you visit this shop often, they'll be much more familiar with your car's needs, allowing for better service and care.
Support Your Local Economy
The money you spend as a customer at your local tire shop will then be returned to your community. Instead of sending that money to a big business or an online shop, why not support people you know? 
By buying locally, you help create jobs. You allow your local business to stay open and hire more people in your community. Keep your community thriving by buying locally.
Tire Price Affordability
There's a misconception among many people that a local tire shop is more expensive than an online retailer. Contrary to this belief, you can often get much better detail from a local business than from other stores. At a local tire shop, they won't have to raise prices to account for their advertisement or listing online, nor will you pay for shipping. Some local businesses may even offer a price match guarantee, where they'll try to match the estimate provided to you by another shop.
Quick and Professional Service
When you buy tires online, you aren't guaranteed the kind of service that a local tire shop can provide. With many online retailers, if you want a tire installation, you'll have to find an authorized dealership, which may be out of the way. You are promised quality tires and a quality tire installation with a local tire shop.
If a tire isn't installed correctly, you may need replacements sooner than estimated. It can also cause damage to your tires, which will only lead to you spending more money in the long run.
Deals
Many tire shops may offer deals to their local customers as they try and convince shoppers to try out their services. These deals may be coupons or promotions you'd only be aware of as a community member. Alongside those deals, you might find more savings from a local tire shop as corporations are more likely to lack transparent pricing or detailed service information, charging inflated prices for their goods. By buying from a local shop, you'll have services you can trust without worrying that the shop is dishonest. 
Quality Assurance
Small tire shops' most significant benefit is that you can be guaranteed quality. With corporations or online retailers, you might not know what to expect when you receive your new tires until they're delivered to you. With local tire shops, they'll perform a quality test on every tire they sell. This quality test means you know the experts at your tire shop are giving you the best of the best.
A local tire shop needs to sell the best because the community's opinion matters to them. A bad review because of a faulty product means lost customers, so they'll want to guarantee that what you're getting is a quality they can stand by.
our Local tire shop at D & R Car Care is the Best Place to Buy Tires
When you require a new tire, don't settle for lesser service. Come into D & R Car Care for the best of the best. Our ASE-certified mechanics want to provide you with only industry-standard products supplied with customer service that'll have you coming back when it's time for routine maintenance. 
We know our products and will be glad to walk you through what tire brands best suit your vehicle. We are a full-service tire shop happy to help with flat repairs, custom wheels, alignments, and more.
For top-quality car repair and tires in Statesboro, Ga, call us at (912)871-4111 or schedule your appointment online today. Our ASE-certified technicians are equipped to handle all major and minor auto repair services on domestic and foreign vehicles.