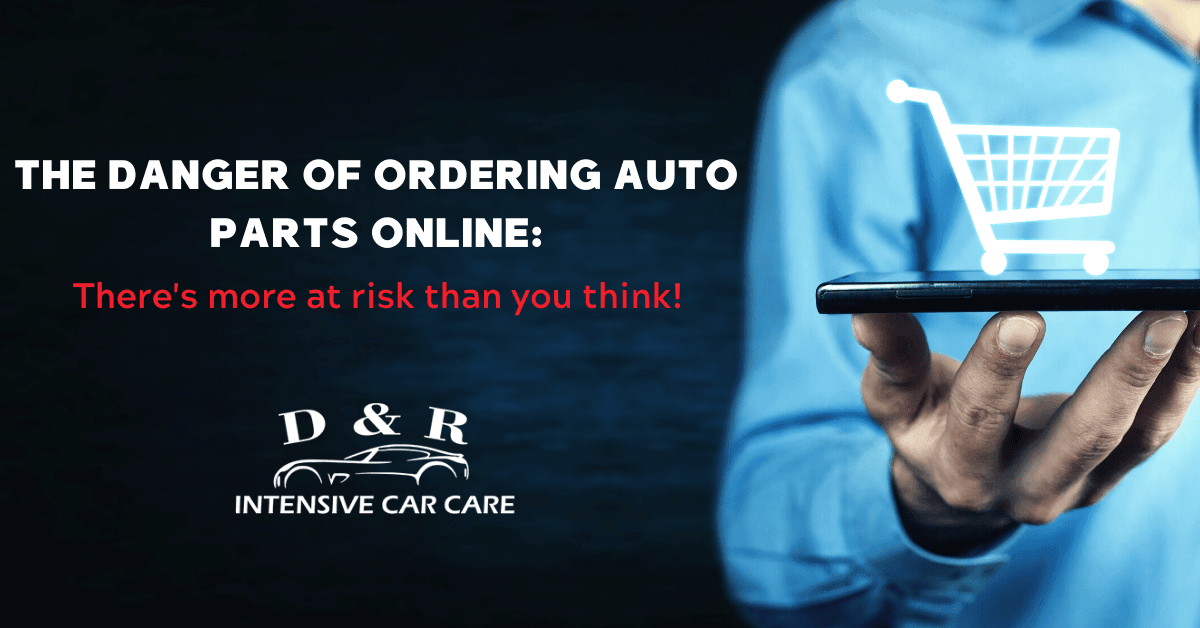 The danger of purchasing auto parts online: there's more at risk than you think.
In the last decade, sites like Amazon have made it easier than ever for customers and small auto repair shops to purchase auto parts at a low cost. While saving money is a good thing, sometimes cheaper isn't always better. Internet sales make counterfeit automotive parts easy to sell, putting drivers at risk. It's important for consumers to be aware of the risks when purchasing auto parts online, before making a costly mistake.
Over the past few years, fake auto parts from overseas have been infiltrating the market. Law enforcement agencies have been working hard to intercept the counterfeit parts and warn buyers that any part of a vehicle can be counterfeited.
Some consumers and even repair shops may not realize the danger involved when purchasing parts online. A video released by the National Highway Traffic Safety Administration demonstrates this potential danger. The footage shows a counterfeit airbag exploding, rather than deploying correctly in a high impact collision. While this kind of catastrophic failure may be the worst case scenario, many fake parts are simply substandard.
Fake parts may not fit or operate to the capacity of an authentic part. This can cause damage to the car or lead to other dangerous situations. There is no way for the consumer to know the quality of the parts when they are counterfeit, and some of the fakes appear nearly identical to the actual parts.
Though Federal, State, and Local law enforcement agencies are working diligently to stop the fakes from getting to customers, new websites are popping up all the time. Some of these sites are selling parts that even include trademarks from established brands. Authorities have a difficult task shutting down e-commerce sites that sell trademark infringing parts before an unsuspecting consumer makes a purchase.
So how can you be sure that you, and your repair shop are using authentic auto parts?
Here are a few tips to be sure that you and your vehicle are protected:
1) Always deal with a repair shop who purchases parts from a reputable dealer. Ask your shop where they purchase their parts from, and check up on their source. Most reputable auto repair shops offer some sort of warranty, or at the very least, stand by their work.
2) Be wary of "too good to be true" pricing. Federal officials say if the price is too good to be true, it probably is. These fake parts are significantly less expensive because corners are cut in production that lead to faulty operation. Buying from the distributor is worth the guarantee that the part will function properly.
3) Avoid large e-commerce stores for parts. Even Amazon is coming under fire. Daimler, the parent company of Mercedes-Benz recently filed a lawsuit against the e-commerce giant for housing, distributing, and profiting from the sale of counterfeit trademarked Mercedes-Benz parts.
4) Trust your gut. If you take your car to a repair shop, and something just feels off about the pricing or the work, do some research. If things aren't checking out, walk away.
The safest way to ensure that your car is repaired correctly using authentic parts is to visit a local car care center with an excellent reputation.
To remove the doubt of where your parts come from, D&R Car Care purchases only the best quality manufactured parts from established, reliable distributors. We have decades of experience, and we have built a reputation as the best auto repair shop in Statesboro. We know our customers, and we care about your safety. We want to see that our customers are enjoying their vehicles for years to come.
If you are concerned that you have been duped by counterfeit parts, you can report it to the National Intellectual Property Rights Coordination Center. If your car is in need of a repair, trust the care of your vehicle to D&R Car Care in Statesboro for quality care, every time. Give us a call today at (912)871-4111 or schedule your repair or maintenance online.