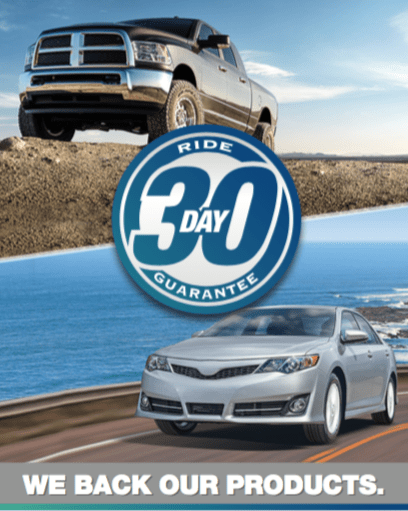 We are so confident that you will be satisfied with your new set of Falken Tires that we are offering you a (30) Thirty Day Ride Guarantee or 1,000 miles to try them out.
OFFER VALID WITH PURCHASE OF ANY SET OF (4) FOUR ELIGIBLE FALKEN TIRES LISTED BELOW:
AZENIS FK510

SINCERA SN201 A/S

SINCERA SN250 A/S

WILDPEAK A/T3W

WILDPEAK H/T

ZIEX CT60 A/S

ZIEX S/TZ05

ZIEX ZE950 A/S
WHAT DOES THE 30 – DAY FREE TRIAL RIDE PROGRAM OFFER?
If for any reason (other than those listed below as not returnable conditions) you are not satisfied with your new set of four eligible Falken tires within 30 days or 1,000 miles from date of purchase (which ever comes first), you may return them to the original place of purchase for a full reimbursement (limited to the purchase price of the tires). You will be required to present the original sales invoice, along with this card with the Information Section completed.
WHAT CONDITIONS ARE NOT COVERED (Exclusions)
Your tires are not returnable if:
• They exhibit road hazards – Cuts, snags, punctures, bruises or impact breaks and any damage caused by puncture or tire repair.
•There is tire damage or failure resulting from improper operation or maintenance, such as: Load, speed and inflation practices causing excessive operational temperatures that exceed tires' capabilities.
•There is tire damage or failure resulting from: Wheel damage or defective mechanical conditions in the vehicle, extreme temperature exposure, misuse, negligence and abusive driving, such as tire spinning, racing, extended use of unpaved roads or accident damage.
NOTE: Tires must be operated in normal highway use within the U.S. and Canada. This offer does not apply to tires used in commercial service including, but not limited to, taxi cabs, police cars, emergency vehicles and non-passenger service. Tires used in racing related activities or competitive events are excluded. The offer is not-transferable and applies only to the vehicle on which the tires were originally installed.
No Falken Tire employee, retailer or dealer has the authority to make any representation, promise or agreement on the behalf of Falken Tire, other than as stated in this 30-Day Ride Guarantee Program card.
See the Falken Tire Limited Warranty and Adjustment Policy brochure for important safety warnings and tire maintenance recommendations.